Intel® Core™ Processors of the 12th Generation (Alder Lake)
More Performance at a Lower Price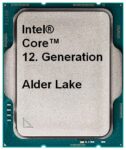 The new Intel processors have now arrived in the embedded space and are already available in many form factors.
Compared to the popular 8th and 10th generation processors, the 12th generation is 225% and 185% faster respectively*.
They are also cheaper despite higher performance.
If the extra performance is not needed, you can switch to a smaller model and save even more.
It should also be noted that the 8th generation will change to embedded distribution at the beginning of 2023, which is usually accompanied by price increases.
Additionally, new features like DDR5 and PCIe 5.0 are added. Furthermore, the maximum core count increases to 16 and the clock frequency to 5.5 GHz.
There is also a change in the embedded models with ECC support and longer availability. While the designation XEON® was used instead of Core™ in the past, this is no longer the case. There is now only Core™. Selected types support ECC and are longer available.
We would be happy to check your design for a change.
Please contact us!
* The i7-12700, i7-10700 and i7-8700 were compared with the PassMark benchmark.